4 min read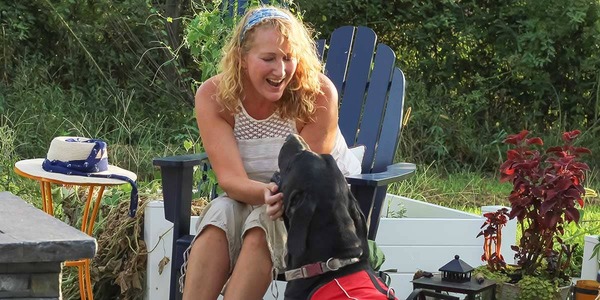 Today kicks-off National Multiple Sclerosis Awareness Week, a time to show our support of the MS community and increase awareness of this debilitating disease.
Having had the privilege of treating people with MS, I have a deep appreciation for the perseverance of MS patients and their community.
MS is a challenging disease to treat and manage, both physically and emotionally. MS symptoms are often not visible to a patient's family, friends, or colleagues. Day-to-day, patients can look and appear healthy. But for many, social, financial, and environmental issues can exacerbate what is already a difficult condition to manage, particularly for those living in underserved communities where there is limited access to convenient, affordable, and quality care.
One of my first MS patients shared their frustration about the lack of understanding about this chronic disease. "So many of my colleagues and friends question if I have a serious disease. They keep saying 'but you look well and act normal.' I don't know how to tell them how hard it is to manage and live with this disease." Another patient needed a handicapped parking sticker, but tried not to use it because she felt people judged her for being healthy and illegally parking in a handicapped space.
Earning their trust
Managing a debilitating disease while people think you are healthy creates a feeling of isolation, magnifying the daily challenges of treatment. This lack of public understanding can foster distrust of the healthcare community by people with MS.
In my experience, MS patients build very tight relationships with the providers they trust the most to improve their quality of life: neurologists, physical and occupational therapists, nutritionists, etc. Other members of the healthcare system are sometimes viewed as a potential source of confusion, error, or someone trying to deliver cookie-cutter medicine. Building trust is a necessary step in all patient encounters, but for this group, it's even more crucial.
Signify Health has been working with the MS community for more than five years, earning their trust one patient at a time. We have in-home healthcare practitioners who are credentialed, certified, and trained to provide initiation services for MS therapy. Our clinicians understand the unique daily challenges that people with MS face as they manage their disease.
Treating MS at home
Most MS patients are diagnosed with the disease between the ages of 20-50 and have gradually customized their home to accommodate their gradually changing needs. The average MS patient's home is MS friendly and has the appropriate assistive equipment laid out in the right sequence and ready to use. MS healthcare providers must understand and adapt to the needs of MS patients.
By combining Signify Health's sophisticated logistics and clinical documentation technology platform with a national network of clinicians, we can assess and monitor patients' complex therapy initiation in the comfort of their own homes, ensuring the same safety protocols as a clinical setting.
Currently, we support MS patients through direct contracts with our pharma industry clients in three ways:
The FDA has approved more than a dozen disease-modifying therapies (DMTs) to help prevent MS from getting worse. We visit patients in their homes to conduct a baseline assessment of their cardiopulmonary status and physical health status to determine if they are eligible to receive the medication prescribed by the patients' treating provider.

We closely monitor patients for at least six hours after a disease-modifying drug therapy is administered. Since 2015, we've conducted 2,700 First Dose Observations (FDO) in the homes of MS patients across the country. Those FDOs represent more than 16,000 hours of treatment time that would have been spent in costly clinical settings.

Through our partnerships across the pharma industry, we seek to improve patients' access to new therapies, while working to break down barriers for patients participating in clinical trials.
Our goal is to assist MS patients in initiating complex therapies more quickly by bringing the clinical tools to where they live and enabling them to stay on their prescribed therapy as long as necessary—with minimal disruption to their daily life.
Shining a bright light
An essential part of the extended care team for many with MS are the dedicated professionals and volunteers who work tirelessly to connect patients and their caregivers with the resources and support they need. We see the significant impact that organizations like Multiple Sclerosis Foundation, Multiple Sclerosis Association of America and the National Multiple Sclerosis Society are making in the communities where our patients live and it is a privilege to work alongside them.
As we shine a light on MS, I am humbled and grateful to be working together with my colleagues at Signify, our business and advocacy partners and our clinicians. Thank you for all you do to make a difference for those in your care.
---
Marc Rothman, MD is the Chief Medical Officer at Signify Health.