4 min read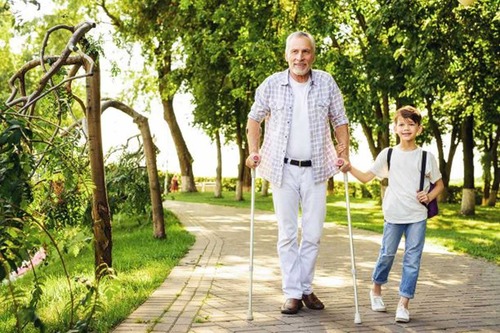 Twelve-year-old Sophia's life changed dramatically when she suffered a traumatic brain injury and stroke after a horrible car accident. She spent 109 days in the hospital, fighting for her life. When she was finally released to go home, she and her family faced a long, difficult recovery journey —Sophia had to relearn the basic skills necessary to help her reclaim her life.
Fortunately, Sophia is a survivor and her family was determined to help her receive the care she needed, but they couldn't do it alone. Her doctor suggested they reach out to San Antonio-based ConnectAbility to help them find the support Sophia and their family needed.
ConnectAbility was established to support people like Sophia, whose lives have been forever changed as a result of a stroke, traumatic brain injury, amputation, or spinal cord injury. Its dedicated team of care coordinators work with community-based organizations to close the gaps in care for these critically injured clients.
Sophia is one of hundreds of clients that ConnectAbility serves each year by providing a wide array of services that clients need to manage their daily lives as they undertake intensive therapy. These services range from care coordination, navigating complex medical and insurance systems, identifying and securing additional resources (such as therapists and durable medical equipment), and peer counseling. This work requires them to collaborate with hundreds of community-based organizations and quickly activate them to meet the urgent needs of patients.
Building a service engine
Until five years ago, ConnectAbility's four care coordinators relied on phone, fax, and email to share information with referral partners. As word spread about their services, Dawn Dixon, executive director of ConnectAbility, knew this approach was not sustainable.
She turned to Signify Health and, together, they re-engineered the organization's workflow to make it easier to exchange and track referrals in real time, capture client information, and document care coordination activities. This work transformed how Dawn and her team operate. Using Signify Community, a secure collaboration platform, many time consuming administrative tasks have been automated, allowing the ConnectAbility team to focus on what they do best — connecting clients and their families with quality resources and services.
Today, referral requests from the ConnectAbility website automatically create a set of actionable next steps for the care coordinators within the Signify Community platform. These activities include documenting calls, making appointments, and following-up on resource requests on behalf of their clients. Having a user-friendly workflow management process, along with the ability to upload documents and keep all client information in one place, has positively impacted client service and ConnectAbility's own rigorous performance measurement.
"Signify's collaboration platform makes it easier for us to track the needs of our clients and determine the best course of action," Dixon said. "It allows us to see the outcomes of referrals and helps us be more efficient and accountable to our clients and partner organizations."
Turning their town into a community
With many partner organizations serving the same clients, being able to collaborate efficiently is critical. ConnectAbility is among a group of organizations that are part of the Alamo Area Community Network (AACN), an alliance of community organizations working to improve the health and well-being of individuals and families in the San Antonio region. The AACN brings together human service and nonprofit organizations, funders, government entities, healthcare providers, and health plans on the privacy-enabled collaboration platform, Signify Community, to coordinate social services across the community. Together, they're working to address Social Determinants of Health (SDoH), which include conditions such as access to developmental services, childcare, healthy food, social services, and transportation.
Coordinating during COVID-19
The pandemic presented unprecedented challenges to Dixon and her team. ConnectAbility's staff were no longer able to have in-person client visits, making it more difficult to connect and build rapport with them. To help address this issue, the organization began using web cameras, which they loaned to clients, or video chat with clients who have smartphones. However, it can be challenging because not all clients have access to technology that supports virtual interactions.
Despite these challenges, connecting virtually has allowed ConnectAbility to reach more people. ConnectAbility now offers 22 different online support groups. This means that people who live outside of the San Antonio area can now access and benefit from these programs.
Extending the support team
Working alongside Dixon and her team are people like James Moody. James is an occupational therapist who is a Signify Community care coordinator. He serves as an extension of the ConnectAbility care coordinators, meeting with clients and their families when they are discharged from the hospital, identifying their clinical and social needs, and helping them find the resources they require.
A typical day for James may include working with insurance companies, securing therapist referrals, and providing resources and training for family caregivers so they can care for their loved ones at home.
But James' work goes far beyond being a professional advocate. He is a compassionate confidant, there to listen to family members when they feel overwhelmed or just need someone with whom to talk.
Achieving milestones
Sophia is one of James' clients. When she was discharged from the hospital, James was there to help transition Sophia back home. At that time, Sophia needed durable medical equipment and home modifications — she needed to have the door to her bathroom widened, a ramp installed to roll into the shower, and a shower wheelchair. Without making these changes to Sophia's home, she would have been unable to bathe.
"The most rewarding part of my job is cutting through the red tape and helping people get the care they need," says James.
After a year of hard work, Sophia has achieved some major milestones. She is walking again and, in December, she experienced a true Christmas miracle and began to speak. Sophia's story is a testament to the power of personal resilience and to the power of a connected community. ConnectAbility offers us a model of excellence for driving both.
---
Theresa West is VP of Community Solutions at Signify Health.