7 min read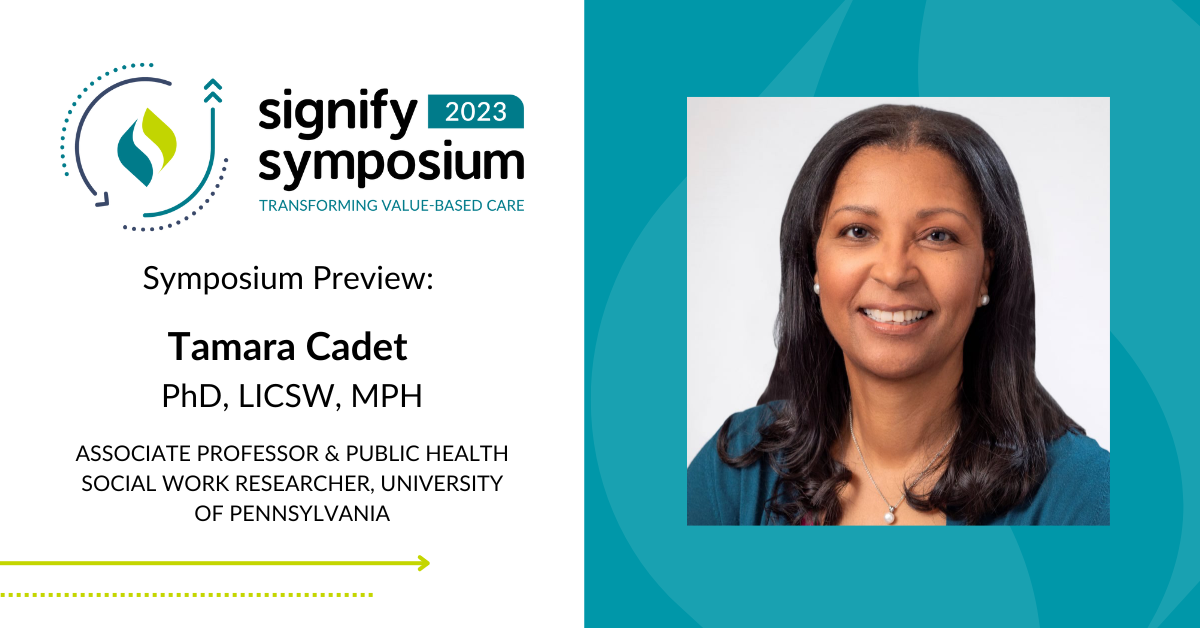 Tamara J. Cadet, PhD, LICSW, MPH, is an Associate Professor at Penn Dental Medicine at the University of Pennsylvania and a Senior Fellow at the Leonard Davis Institute. Dr. Cadet specializes in health social work, health literacy, and advocating for underserved and vulnerable populations to have equal and equitable access to healthcare services.
Dr. Cadet is scheduled to present at the upcoming Signify Health Symposium scheduled for May 24-25 in San Antonio. We sat down with Dr. Cadet to learn more about what inspires her work and her experience as healthcare providers transition from fee-for-service modalities to value-based care.
What excites you about speaking at this year's Signify Symposium?
I had so much fun last year and am excited to join you all again. Everyone I met in terms of the leadership and the participants were so passionate about their work and that made me even more energized. I am excited to share a piece of my world with others and hear about their world so that I learn something, and I hope they learn something too. I find that we often work in silos and so events like this – not necessarily huge conferences with thousands of people – are truly helpful in reducing silos and understanding what is happening in the world.

Your motto is, "If I am not thinking about the underserved or under-represented client or patient, then I have forgotten the most important part of conducting research." Where does your passion and inspiration in serving this demographic come from and why is this important to you?
I think that for so long, researchers have conducted research with the dominant population (such as those with money vs. those without money, white vs. black, male vs. female, male/female vs. binary – you name it) and we wonder why there are disparities. We question why some groups are not as healthy as others when we have treated them the same as the dominant group or in fact, have ignored them. For me, this is a simple matter of social justice. If we say we are among the richest nations in the world, why do we have some terrible health rates? And, why is it only for some demographics and not others? So, it is not enough to just think of those who have access to everything and to consider those who do not. We can't say we have a healthy country when there are people who are hungry and homeless and living in unsafe neighborhoods with violence and/or environmental pollution. If we take care of one person at a time, then we all will be truly healthy and that is important to me.

Your work combines the best of traditional healthcare with the best of social services, which are often regarded as different segments in our healthcare system by both healthcare providers and health plans. What are some of the challenges you've faced in integrating these two segments? Why is this integration important?
I consider myself a public health social work practitioner and researcher. I understand that the need to treat the health condition is important but if we ignore the non-medical factors, then we start blaming patients which our field has done. We say they are non-compliant; we say they are not motivated – all sorts of critiques but we are slowly starting to ask if there is something else – is a patient non-compliant because they actually do not have the funds to get to the appointments or purchase the prescriptions?
We need to get payors, and this is starting to happen a bit, to recognize that non-medical factors need to be reimbursed and there is a workforce (and yes, as a social worker I am going to argue that social workers have been doing this work for years – we are trained to do this work) do not get reimbursed or even recognized for this work. The bottom line for payors may be their ROI but the ROI is there if we fund research and fund practitioners to document this work.

Let's talk about the potential that value-based care models have in progressing health equity. What are you experiencing?
I will talk a little about value-based care and equity in San Antonio but there is so much potential that value-based care models and equity have. First, we know there is a growing call for the inclusion of social determinants of health (SDoH) as a criterion in advanced primary care delivery and value-based payment arrangements. For me, health equity and value-based care are complements to one another. Value-based care helps to provide quality care to patients, and rewards healthcare providers for both efficiency and effectiveness. Some may say that means providers will see more patients in terms of efficiency but when those patients come back again and again, the efficiency and effectiveness goes out the window. But, imagine providers who address the medical needs and an interdisciplinary team of other providers, including social workers, community health workers, etc., who address the non-medical needs. Imagine that the patient comes once and then does not return for a while because the whole patient was addressed at that one appointment - this is the potential of health equity using SDoH and value-based care models.
As I will talk about, there are small steps we can take – health equity is big and will come with a constant focus. Resistance comes with change and that is the challenge – why change when a person has been doing it one way and that way seems to work.

What would you like to see from CMS in terms of providing enhanced support to underserved populations and/or the providers who serve them?
I am going to refer to the NASEM [National Academies of Sciences, Engineering, and Medicine] report for this one, specifically, recommendation four which is to finance the integration of healthcare and social care. For instance, the Centers for Medicare & Medicaid Services [CMS] should clearly define which aspects of social care Medicaid can pay for as covered services. For example, the system used to pay for healthcare, but it does not encourage the integration of healthcare and social care, nor can it adequately adapt to the trending shift toward value-based payments for care and paying for better quality and better health outcomes. New financing approaches are needed to enable the healthcare sector to engage in activities that strengthen social care and community resources.
Public officials and insurance companies determine what services are covered under health insurance plans, and they can define social care as healthcare. For instance, when defining reimbursable activities in a state's Medicaid plan like case management and quality improvement, the definitions could include social care activities. Those activities might include assessing social needs and linking with services that address those needs, such as food and homelessness assistance. In the case of Medicare, the exclusive focus on mental health-related social work services has largely prevented the use of fee-for-service billing codes that reimburse for services that target social factors related to physical health problems. Addressing this legislatively would enable licensed clinical social workers to build and sustain interventions that assess and address social needs.
Patients enrolled in both Medicare and Medicaid have some of the highest social needs, but each program has its own list of covered services. To address these patients' needs more effectively, CMS and states should better integrate Medicare and Medicaid financing streams and service coverage. And enhancing operational and management systems for social service providers, similar to those used by the health sector, is necessary to ensure better bi-directional workflow and integration.

In recent years more attention has been paid to social determinants of health. How does addressing SDoH align with improving health equity? What role does health literacy play?
For me, if we are addressing SDoH, we are doing health equity work. Certainly, not all of it but we are starting to do that work. Addressing social determinants is addressing the root causes of health disparities and health inequities. We can implement programs to provide transportation and partner with community-based organizations to provide additional services, but we need to go deeper and get at the root causes – why are there transportation problems and how does that get fixed? Why are there unemployment problems and how do they get fixed? Healthcare organizations are sometimes the largest employers in some regions for people – what more can they do? And for health literacy, my favorite topic and the one I talked about at last year's symposium, is a social determinant. If we talk about SDoH - the conditions in which we live, play, and work – how do we do any of these with limited health literacy? This is related to education, income, age, access to healthcare, and at any point any one of us can experience limited health literacy. If we think about it, if folks can do something about SDoH we are likely to see increased use of preventive services, medical adherence, and involvement in decision-making – the things that make for quality care which helps with value-based care.

What advice do you have for healthcare providers who want to improve their approach and patient outcomes for the underserved in their communities?
I know providers have so much going on and yet, I will say that I don't want them to do it alone. I want them to use their interdisciplinary team or gain access to one. I would love for each of them (recognizing the time constraints) to first ask each patient – not, 'What brings you in today?' but something like, 'How was your day today?' The message the healthcare provider has conveyed is, 'I am here listening to you.' That is the first step. And not only the medical providers can do that but also the 'non-traditional' providers in the organization - from the receptionist to the phlebotomist. I think when we can figure out a system where providers can ask what sort of patient has a disease rather than what sort of disease a patient has and the questions that support that – we will see engagement; we will see better outcomes.

Since you'll be in San Antonio for the symposium is there anything you plan to do while you are in the Lone Star State?
Two things: I plan to go to the River Walk – it has been many years since I visited San Antonio and I remember the River Walk. I also plan to see my stepmom who moved there during the pandemic, and I am excited to see her. Who knows, my daughter has a pair of cowboy boots and I have seen some cute ones!

Interested in hearing more from Dr. Cadet, and learning about Signify Health's value-based care solutions? Visit our website for more information on the 2023 Signify Symposium. This year, we will be in San Antonio, at the luxurious LaCantera Resort and Spa.
Learn more about registration and all this event has to offer. We look forward to seeing you there!