6 min read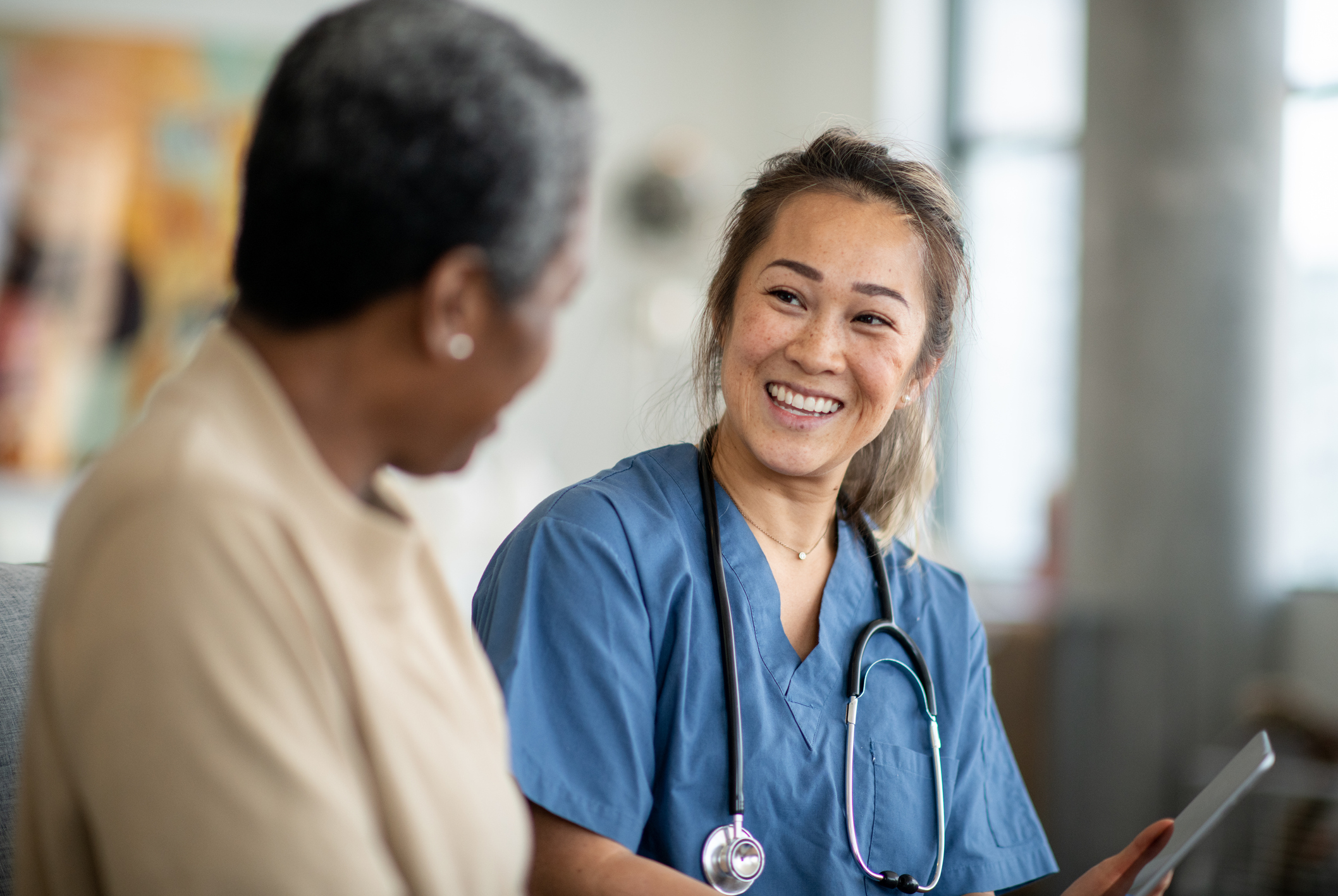 The month of May has historically celebrated nurses and their collective commitment to their patients and their profession. This year, rather than one week culminating on the May 12 birthday of Florence Nightingale, the founder of modern nursing, nurses week has expanded to National Nurses Month.
We are grateful for the efforts of nurses who collaborate with clinicians, healthcare providers, and community services to improve the quality of patient care. Our clinicians and value-based care experts work directly with population health nurses to educate and provide resources on the ways to optimize population health methodologies. Value-based and population healthcare provides the opportunity for nurses to work at the top of their licenses which affords physicians additional time to spend with high-risk patients.
Team-based care workflows that emphasize preventative care ensures that patients with chronic illnesses, and those who are challenged by social determinants of health do not slip through the gaps. Population health nurses are credited as an essential function of team-based care where they help to bridge gaps in care and identify patients who require additional services. Nurses also play an essential role in delivering Annual Wellness Visits which are at the core of value-based care.
Value-based care methodologies encourage nurses to perform high-levels of care and rely on them to communicate with patients and to better identify gaps in care. Nurses play an integral role in the success of value-based care and the sustainability of accountable healthcare practices.

Signify Health nurses share their experiences being at the forefront of value-based care transformation
Signify Health nurses work in a variety of roles including, but not limited to, Regional Vice Presidents, Regional Managers, and Clinical Leaders. Each of these roles are not only pivotal to helping improve patient care outcomes but also empowers nurses to become leaders in their field. We connected with some of our Signify Health nurses to hear about their proudest moments and learn more about how they are helping lead the transition from fee-for-service to value-based care.

Why do you enjoy working for Signify Health?
I thought long and hard about this question. I came to this organization because I love to coach to higher standards that revolve around our ACO initiatives. I love helping organizations help their patients in preventative measures, saving lives a whole different way as an RN. Being a consultant brings me joy. Where the plot thickens for me, is that I quickly realized that I fell in love with this organization because of how I am treated. I get to be me. I get to be a goal orientated geek, a customer obsessed fanatic, a winner at a team sport and a someone who will never settle and have the freedom to act so I can commit and deliver. I find joy in my role and the lives I can affect by working together with clients and teams to save one life at a time.

What is your proudest accomplishment working at Signify?
Building a relationship with teams across the USA over Zoom and Google Meets in four months of being here.
April Bourdage, RN
Clinical Leader

Why do you enjoy working for Signify Health?
I love supporting those on the front lines of healthcare do their jobs in new ways that focus on the patient but also on how to be successful in the value based care environment. My team of Clinical Leaders does this every day in so many different ways. My team is amazing and also a big reason I love this job.

What is your proudest accomplishment working at Signify?
I received feedback from a client that they had known for some time that they needed to expand their disease management focus, but until working with us they had been unable to bring all their team together and leverage their efforts within their health system. We were able to supply the support and expertise to jump start the work they knew was important for their patients and community.
Amy Dossey, RN
Clinical Leader

Why do you enjoy working for Signify Health?
I went into nursing because I wanted to help people. I enjoy working for Signify Health because I am passionate about what we do each day to help our clients care for their communities. Health care is difficult to navigate for patients and there is a shortage of clinical staff to meet all demands. By pulling clinicians together and collaborating through the ACO, I feel that we can identify clients' needs, create tools, provide resources, and provide education to our clients on shared workflows and best practices from throughout the USA, and assist them in helping patients transition through the healthcare maze while providing optimal care.

What is your proudest accomplishment working at Signify?
I would have to say my proudest accomplishment is knowing I am making a difference across the USA, especially in our rural communities. Coming from a rural community myself and having worked in a CAH and RHC I can see the impact we are making. Working side by side with clients to find resources and provide tools while coaching on how to build and utilize a Team-Based Approach I can assist them to work collaboratively to improve efficiencies and increase the quality of patient care without increasing spending and preventing clinician burnout. Mostly, I am proud of how many lives we impact. Not just with the patients but with the clinical staff as well. Health care is difficult to navigate and costly, and burnout is real. I am proud to be their support and watch them succeed at meeting their goals.
Stephanie Jeziorski, RN
Clinical Leader

Why do you enjoy working for Signify Health?
I enjoy working for Signify as I have been able to work with healthcare organizations all over the country to help them establish disease management programs, working together to improve the health and quality of life for all those they serve. I enjoy collaborating with our clients and learning more about their communities. I also appreciate my work/life balance and I feel so very blessed to be a part of our Clinical Leader team.
Ashley Kilpatrick, RN, CMHWC
Clinical Leader, VCS Practice Transformation

Why do you enjoy working for Signify Health?
I love working here because of the significant impact we have on patients and healthcare systems nationwide. This work isn't easy, but our teams of firestarters and change agent clients show up every day, making the healthcare system better for all.

What is your proudest accomplishment working at Signify?
My proudest accomplishment was when a client I worked with was featured on a local radio show promoting Annual Wellness visits. She was shy and not really sure about wellness visits when we started our work together. She grew her craft, helped her patients, and became an expert and advocate ensuring that all members of her community received the preventive service.
Alicia Lawless, Senior Director, Practice Transformation

Why do you enjoy working for Signify Health?
Working at Signify Health allows me to use my knowledge, skills, and experience in a flexible and creative way to support colleagues and advance client performance. Signify Health provides me positive challenges for professional growth and development.

What is your proudest accomplishment working at Signify?
I have many Signify Health accomplishments that I'm proud of but what stands out to me the most today are the relationships and friendships that I've been able to build with colleagues and clients throughout the years. These bring me joy and will forever be my proudest accomplishments.
Paula Price, MSN, RN, BS-CHE
Senior Clinical Leader

Why do you enjoy working for Signify Health?
As a clinical leader, I get to work with clients around the country and support the implementation of advanced clinical programs to impact patients who have complex medical diseases. As a RN and NP myself, it is important to me to always keep patient (and family) care in the center of my work- and this population health platform allows me to impact a broader scope of communities while working with incredible people both within and outside of our organization. Beyond these specific programs, I appreciate that Signify offers a host of opportunities to leverage my clinical experience in supporting healthcare systems/clinicians and impacting communities far and wide.

What is your proudest accomplishment working at Signify?
Although I haven't been with Signify long, I had the opportunity to be first to support a client in the implementation of our Diabetes management program. This sprint is still in progress, but we have provided many resources to enhance the care they provide to this vulnerable population, and we are working together to address the unique challenges of their community. I love hearing from clients and seeing the data to support the impact of these programs, and look forward to measuring the outcomes of this sprint.
Maureen Shifflett, RN, MSN, CPNP
Clinical Leader

Signify Health relies on this special group of clinicians. Just as Florence Nightingale changed the landscape of healthcare, our nurses are contributing to a valuable change for the present and future of our nation's healthcare.

Thank you for all you do!
For more on National Nurse's Month, watch this special thank you from Signify Health Chief Medical Officer, Value-Based Care Solutions, Dr. Ashok Roy.