5 min read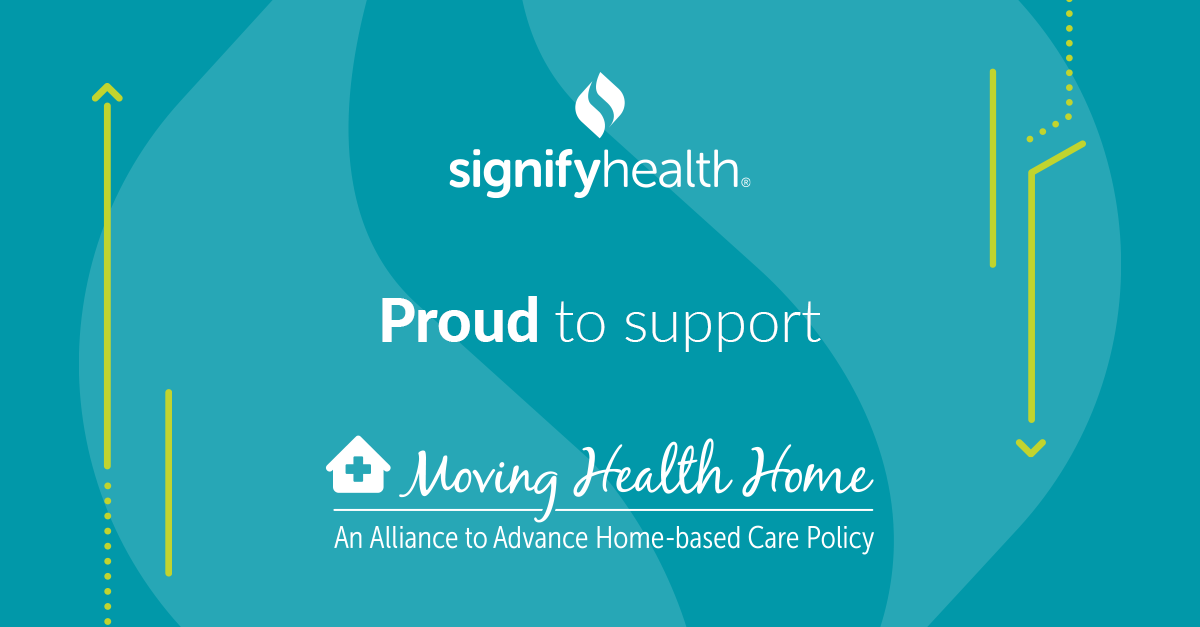 As the saying goes, "home is where the heart is." Those working in healthcare also know this to be true, "home is where the health is." Today marks an important milestone towards making the home a viable health hub for more people with the launch of the Moving Health Home coalition.
Signify Health is proud to be a founding member of the Moving Health Home coalition and to be working alongside a multi-disciplinary, bipartisan group of individuals and organizations to advance policies and practices aimed to bring health homeward. As a practicing geriatrician and a Vice President of Medical Affairs at Signify, I have a special appreciation for the importance of activating the home as an alternate site of care. Here are some observations on why now is a good time for a national dialogue on this aspect of care management.
Advances in medtech are making what was impossible possible.
Over the last few decades, advancements in technology shifted the delivery of healthcare from the home to hospitals and facilities that could conveniently house the myriad of scans and machines for the clinicians that order and operate them. Today, remote monitoring devices can equip individuals and their caregivers with easy-to-use technology that can automatically update their provider with vital statistics and alert them to any concerning changes in their condition thus allowing a refocus back to the home environment.
With the number of Americans ages 65+ projected to nearly double by 2060, seniors are one of the demographics that advancements in medical technology will impact the most. An ageist viewpoint holds that many seniors are not open to adopting new technologies. However, according to the Pew Research Center, almost 70% of seniors are now connected to the internet, up from just 13% in 2000. And over 40% of adults ages 65 and older now own smartphones, up from just 18% in 2013.
Social determinants of health happen where people live.
A Signify Health survey conducted online by The Harris Poll among over 1,000 U.S. seniors (age 65+) in November 2020, found that over half of U.S. seniors (52%) say they are facing barriers to accessing medical or social services. Bringing care to the patient, in their own home, means greater accessibility for those for whom mobility is challenging — whether due to physical, economic or other reasons.1
Providing healthcare in the home allows us to approach a person's well-being holistically, considering social and environmental circumstances that go beyond clinical care. Fall risk assessments, nutrition evaluations, medication reconciliation, caregiver support needs, functional limitations, identification of abuse and neglect — and much more — can all be evaluated more fully in a home-based setting. At a time when we are reeling from the impact of a pandemic and our understanding of its devastating and disparate impact on aging, minority and underserved communities — expanding the delivery of healthcare into the home could serve as a great equalizer in ensuring equitable access to treatment.
The home is where we can make an impact on a person's health trajectory.
The home is where people are happiest, where they are most comfortable, and where they're most vulnerable and transparent about how and what they're feeling. I see this firsthand with my patients. I also see this as part of my work at Signify as we conduct in-home health assessments for health plan members and deliver diagnostic services for people taking specialty medications for conditions such as multiple sclerosis.
Having a trusted physician, nurse practitioner or physician assistant in your home to discuss your physical health, mental health and observe what's happening in the home environment is not common practice today, but it should be. From our work, we find that in-person engagement opens the door to new opportunities to improve health and well-being. In fact, we find that 90% of the time we conduct an in-home assessment with a senior, they re-engage with their healthcare and with their primary care practitioners.
As we enter a new phase in the journey toward moving health homeward, we can expect many robust discussions about the realities of moving towards new models of care delivery and payment. Here are just a few:
When should the home be considered as an alternate site of care?

How should facilities and care teams be collaborating differently to determine the right site of care and facilitate smooth handoffs?

How can we ensure alignment of clinical teams with those providing social care and with those receiving care?

How can we align health outcomes with financial incentives across providers and sites of care?
The Moving Health Home coalition will play an important role in catalyzing a timely and needed dialogue – and a path forward. As a company whose mission is to transform how care is delivered and paid for so that people can live more healthy, happy days at home, Signify Health welcomes the establishment of the coalition and the opportunity to drive forward this mission together with colleagues and partners across healthcare.
---
Damien Doyle, MD is a vice president of medical affairs at Signify Health.
1 Signify Survey Method: This survey was conducted online within the United States by The Harris Poll on behalf of Signify from November 5-12, 2020 among 1,161 adults ages 65 and older. This online survey is not based on a probability sample and therefore no estimate of theoretical sampling error can be calculated. For complete survey methodology, including weighting variables and subgroup sample sizes, please contact info@signifyhealth.com