4 min read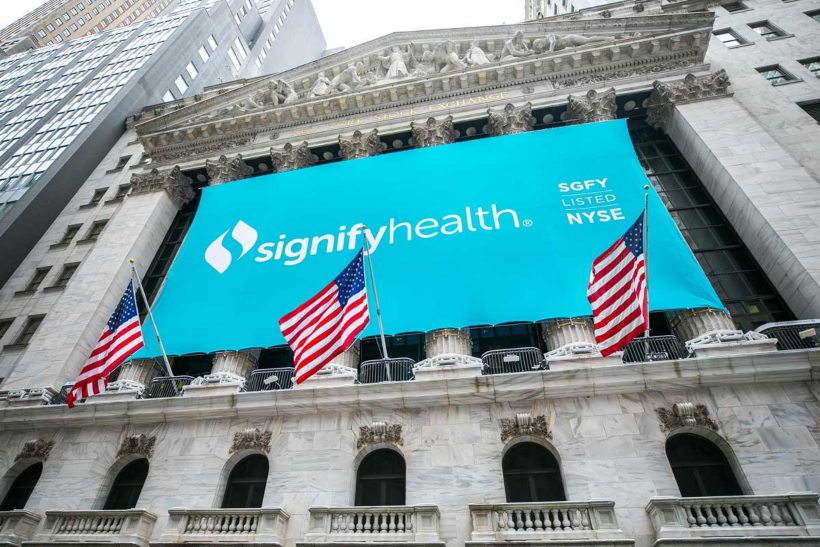 To enjoy more healthy, happy days at home. This is something I want for myself, for my children and for my family and friends. This is why I chose a career in healthcare and it is our mission at Signify Health. While the pandemic has made our collective work more challenging in many ways, it also has put the importance and the urgency of our work into sharper focus. Today, as Signify Health becomes a publicly-traded company listed on the New York Stock Exchange, we are positioning ourselves to achieve this mission for our company, our customers and partners and the people in our care.
Value-Based Programs Focused on the Whole Person
When we formed Signify Health in 2017, we were guided by a commitment to be a catalyst for changing the facility-centric, break-fix model of healthcare that leaves far too many clinical, behavioral and social care needs unaddressed or underserved. Our approach prioritized looking at the whole person and determining what could be done to meet people where they are in their healthcare journey. To bring preventative services to them where and when they needed them.
We do that by creating and powering value-based payment programs that activate the home as a key part of the care continuum. Our platform helps health plans and healthcare providers succeed in value-based programs, enabling better care decisions, actions, and outcomes that tie to their financial success through aligned payment incentives.
Through our platform, we coordinate a holistic suite of clinical, behavioral and social services that address a person's healthcare needs and prevent the adverse events that drive excess cost. At the same time, our platform lessens the dependence on facility-centric care, shifting more services towards alternative sites and, most importantly, the home.
We set ourselves on a path to build a healthier place for us all to live and age in.
There's No Place Like Home
Healthcare was born in the home, and in an astounding evolutionary turn, it's moving back there, coming full circle to the belief that good health and one's environment depend on each other. Prior to the COVID-19 pandemic, people were choosing to recover at home more than ever, supported by advances in technology that are activating the home as a center of care.
While Signify is not a home health company, we see the home as central to improving both the quality and cost of care. So how do we do that? Through our Home and Community Services, we focus on helping individuals be independent and stay healthy at home. From in-home evaluative and diagnostic services, along with clinical and social care coordination, we provide patients and healthcare professionals with the information that results in greater care in the home. In 2020, we conducted 1.4 million in-home evaluations.
We complete the patient experience through Episodes of Care Services — a set of services provided to treat a specific clinical condition or procedure, such as a child birth or back surgery — that help manage the person's continuum of care through recovery. Through these services, we were able to reduce hospital readmissions by 10% for episodes managed in the last quarter of 2019. The effect of COVID-19 has only accelerated the need for care in the home using the kind of holistic model that we offer through a combination of data insights, technological intervention and extensive networks of care providers, coordinators and facilities.
What Value-Based Care Means for Preventative Healthcare
We believe the migration to value-based care has two intersecting benefits that result in a better model: As payment for care is aligned with positive outcomes — which is good for plans and providers — the practice of care becomes more holistic, creating a preventative model — which is good for the person.
In the United States, about $4 trillion is spent on healthcare annually, driven largely by the increase in chronic disease in the country's aging population (80% of people 65+ have at least one), our traditional facility-centric and fee-for-service care model, and the failure to treat people preventatively before they require costly services. It's an astronomical sum and is unsustainable, especially with 10,000 Baby Boomers aging into Medicare every day and healthcare spending eclipsing GDP growth.
As a result, the shift to value-based care, which was slow in its infancy, has evolved. Health plans, employers and providers are accelerating the transition toward a value-based holistic, preventive model where the home is activated as an alternative site of care. By 2025, between 60% and 70% of healthcare payments are expected to be tied to quality and value-based care.
But in order to achieve success in value-based models, providers and plans need the tools to manage both care and cost. That's where Signify Health comes in. With our platform – including advanced analytics and tech-enabled nationwide provider networks – we can provide tools to health plans and healthcare organizations to assess and manage risk and identify actionable opportunities for improved patient outcomes, coordination and cost-savings.
Why Now?
The ideas that inspired us to form Signify Health in 2017 are now the center of discussion among leaders across the care delivery and payment continuum. We've chosen to go public now because we believe we've reached a size and scale where the public market can help us to serve new clients and more quickly expand our capabilities to help people enjoy more healthy, happy days at home, regardless of where they are in their health care journey.
Thanks to the dedicated work of Signify's 2,100 employees, 9,000 credentialed providers, 200 clinical and social care coordinators, our partners and customers — and the enduring commitment of our invaluable partners at New Mountain Capital — Signify Health is now a publicly-traded company, positioned to take the next step in our evolution.
Our mission is to help solve healthcare's last mile problem, meeting consumers where they are in their healthcare journey, bringing evaluative and diagnostic services where and when they are needed most. We believe this focus will enable Signify to help lead the change in healthcare that our country so desperately needs, focused on delivering value and enabling health to move homeward. Today doesn't mark the end of our evolution — it's just the beginning.