2 min read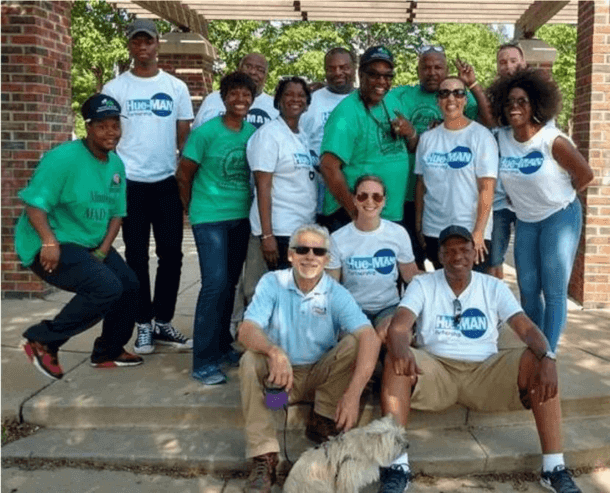 Building a community network isn't easy. As communities form social service networks to collaboratively address social determinants of health, it's important to recognize the trusted messengers that bring people together.
In south Minneapolis, Clarence Jones, community engagement consultant for Hue-MAN Partnership, works everyday to build these trusted relationships. Hue-MAN Partnership's mission is to reduce health disparities among men and improve health literacy in the Twin Cities so that men can make healthy choices for themselves, their families, and their communities. Their motto is "Healthy Men, Healthy Families, Healthy Communities."
Jones is the former Director of Community Engagement at a federally-qualified health center in Minneapolis. Today, he also hosts a community radio show for KMOJ-FM Radio focused on public health.
At Hue-MAN, he has focused on community engagement projects that help address issues ranging from medical access and mental health, to opioid misuse and men's oral health. More recently, he produced videos about the impact COVID-19 has had on communities of color. Across all of these areas, Hue-MAN's work is really about connecting people to sources that can help them. To do this, he spends a lot of his time working to authentically engage with neighborhood residents to improve community health outcomes.
Around this time of year, Jones would normally be preparing for the Father's Festival. This annual festival sets out to bring families together and recognize area fathers who've worked hard and provide an exceptional role model to their communities. However, this year's festival was canceled due to the COVID-19 pandemic. While there may not be a festival this year (it will return in 2021), there is plenty of work for Jones to promote men's health.
As a Fatherhood Doula, Jones helps men through "fatherhood birth coaching." He connects new fathers with resources including:
Parenting classes
Legal services support (for when the parents may not be legally a couple)
Breastfeeding support clinics
Nutrition seminars to understand men and women's health
Mental health support resources
During these educational classes, Jones helps reinforce how behaviors and health are connected. For example, during breastfeeding clinics, he helps men understand that breastfeeding is important for a baby's development. Breastfeeding leads to smarter, healthier babies with a better immune system. This in turn creates healthier communities.
Jones has formed a number of partnerships to advance Hue-MAN's work. With Mise En Place and PICA Head Start, for example, nutritionists train men on how to prepare foods for their children. A central focus of the class is to explain how food and eating behaviors are important for overall health and wellbeing. "For many people, healthy food is not a part of their conversations," says Jones. "Healthy foods are fun."
Other partnerships include the University of Minnesota, Metro State University, Lifesource, Blue Cross Blue Shield, MADD DADS, Black Nurses Rock, the Minnesota Oral Health Coalition, and neighborhood associations.
Additionally, Jones and Hue-MAN, in partnership with Medica, engaged with Signify Health to build a community network to better connect social services to members of the Minneapolis community.
The Signify Health platform will allow social service organizations to collaborate safely and effectively on a shared platform. Participants in the network will be able to better coordinate services, providing holistic care that helps families achieve their health goals.
To engage authentically, Jones says outreach efforts have to be honest, transparent, real, and fun. Otherwise, people may not view the outreach organizers as trusted messengers.
For more information on Hue-MAN Partnership, visit their website.