3 min read
Signify Health achieves NCQA's HEDIS Allowable Adjustments Certification for in-home diagnostic tests
By Signify Health News on 11/8/21 3:35 PM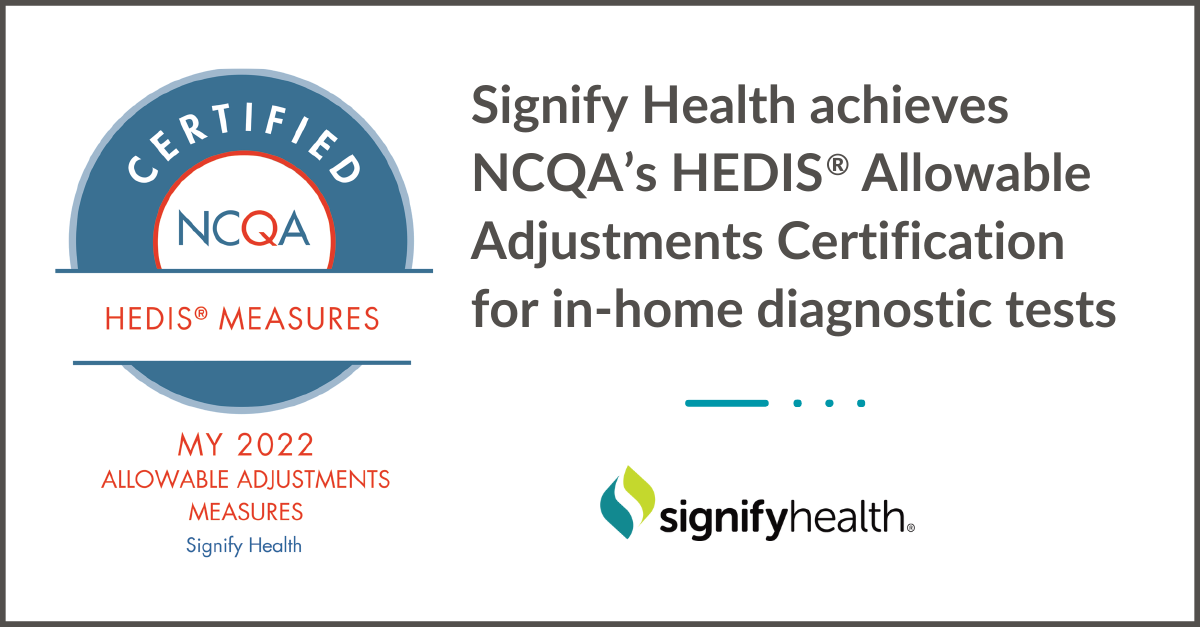 Certification enables Signify Health to identify members with conditions that require active management and who could benefit from preventive screenings
DALLAS and NEW YORK — November 8, 2021 — Signify Health (NYSE: SGFY), a leading value-based healthcare platform that leverages advanced analytics, technology and nationwide healthcare provider networks, today announced the NCQA (National Committee for Quality Assurance) Measure Certification Program™ has certified Signify Health for Healthcare Effectiveness Data and Information Set (HEDIS®) measurement.
NCQA accredits and certifies a wide range of health care organizations and manages the evolution of HEDIS, the performance measurement tool used by more than 90 percent of the nation's health plans, representing 191 million people — more than half the country's population. NCQA's Measure Certification program validated the methodology Signify Health uses to identify eligible members with open gaps in care to perform certain diagnostic and preventive services during a Signify Health in-home health evaluation.
"Having high-quality, comprehensive, accurate data is one of the most important tools clinicians have to understand our patient's gaps in care, and accurate diagnostic screening tests can support patient-doctor decision-making," said Marc Rothman, MD, Chief Medical Officer, Signify Health. "By earning this NCQA certification, Signify Health has demonstrated that our logic meets the industry's most rigorous standards for identifying when an individual is in need of preventive screenings. We are proud of this milestone as it supports our mission of helping people achieve more healthy, happy days at home."
Signify Health earned NCQA's HEDIS Allowable Adjustments Certification for comprehensive diabetes care, kidney health evaluation in patients with diabetes, colorectal cancer screening, and osteoporosis management in women.
"Even before the pandemic, we were experiencing an increased demand for preventative screenings in the home, particularly from seniors looking to reduce office visits that can create issues with transportation, scheduling and cost," said Rothman. "Our new NCQA certification is timely as we continue to build on our experience conducting screenings during the in-home health evaluation and as health plans look for ways to make it more convenient and easier for members to access healthcare services."
This latest certification is in addition to Signify Health's 2019 NCQA Credentialing Accreditation, a comprehensive program review that evaluates the operations of organizations providing full-scope credentialing services, which include verifying practitioner credentials, designated credentialing-committee review of practitioners and monitoring practitioner sanctions. This provides a framework for an organization to implement industry best practices to help accurately, efficiently credential and recredential health care practitioners.
In 2000, NCQA launched its HEDIS Measure Certification program for measures in software products that produce HEDIS results. The program's automated testing processes increase the rigor of a HEDIS measure review and improve measures' accuracy. Certification helps health plans and other reporting organizations find vendors that can help them meet their reporting goals. In 2004, NCQA began certifying vendors whose measure logic produces the "Align. Measure. Perform." program clinical measurement set. In 2019, NCQA began certifying vendors who have measure logic that complies with NCQA's Rules for Allowable Adjustments of HEDIS. NCQA Measure Certification adds a higher degree of reliability to performance measurement data and enables Signify to provide members with consistent and comparable information.
HEDIS® is a registered trademark of the National Committee for Quality Assurance (NCQA). NCQA Measure Certification Program™ is a trademark of the National Committee for Quality Assurance (NCQA).
About Signify Health
Signify Health is a leading healthcare platform that leverages advanced analytics, technology, and nationwide healthcare provider networks to create and power value-based payment programs. Our mission is to transform how care is paid for and delivered so that people can enjoy more healthy, happy days at home. Our solutions support value-based payment programs by aligning financial incentives around outcomes, providing tools to health plans and healthcare organizations designed to assess and manage risk and identify actionable opportunities for improved patient outcomes, coordination and cost-savings. Through our platform, we coordinate what we believe is a holistic suite of clinical, social, and behavioral services to address an individual's healthcare needs and prevent adverse events that drive excess cost, all while shifting services towards the home. For more information on how we are taking health homeward, visit us at signifyhealth.com.
About NCQA
NCQA is a private, nonprofit organization dedicated to improving health care quality. NCQA accredits and certifies a wide range of healthcare organizations. It also recognizes clinicians and practices in key areas of performance. NCQA's Healthcare Effectiveness Data and Information Set (HEDIS®) is the most widely used performance measurement tool in health care. NCQA's website (ncqa.org) contains information to help consumers, employers and others make more-informed health care choices. NCQA can be found online at ncqa.org, on Twitter @ncqa, on Facebook at facebook.com/NCQA.org/ and on LinkedIn at linkedin.com/company/ncqa.