2 min read
Signify Health's Mark R. Dambro, MD receives Martin L. Block Award
By Signify Health News on 3/26/19 8:59 AM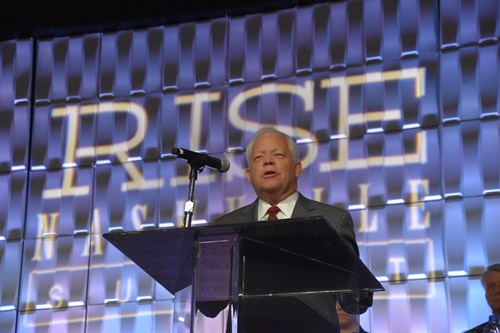 DALLAS --Mark R. Dambro, MD, SVP of Medical Informatics at Signify Health was awarded the prestigious Dr. Martin L. Block Award in a ceremony held on March 18 at the RISE Nashville conference in Nashville, TN. The award was created by the RISE Association to honor the late Dr. Martin L. Block, whose dedication to medicine fueled a deep passion to improve patient care.
Earlier in his career, Dr. Dambro spent more than 18 years treating thousands of patients through his private family medicine practice in Fort Worth, TX. In spite of early difficulties, he was able to run his entire practice as a paperless office on an electronic medical record (EMR) years before it became a requirement.
Dr. Dambro also authored and co-edited a book with Dr. Winter Griffith in the '90s titled "The 5-Minute Clinical Consult." The book became a mainstay for physicians seeking to efficiently answer clinical questions of diagnosis and treatment and was the first database of medical information. The book was revised and re-released every year with new information.
In 2008, Dr. Dambro accepted a consulting position to help build a Medicare risk adjustment company. He eventually joined the company, CenseoHealth, as Chief Medical Officer. In his role, he continued to teach clinicians the art of bedside diagnosis while helping the company with a thousand clinical and practice-related questions. Today he serves as the Senior Vice President of Medical Informatics for Signify Health, where he continues to use his clinical and technology background to transform the quality and delivery of care.
"Dr. Dambro has been an integral part of this company since the beginning," said Kyle Armbrester, Chief Executive Officer of Signify Health. "His vision and knowledge are the foundation of our current practices; his tremendous kindness and keen insight into the needs of patients--especially seniors--are now integral to the practice of literally thousands of physicians every day. He embodies every aspect of the Martin L. Block Award."
"It is very poignant for me to be honored by my peers and to be standing here today to accept this award," said Dr. Dambro in his acceptance speech. "It is always a team effort, and I'm fortunate to be surrounded by a group that is spectacular and who have helped me deliver on the promise of good medicine. I am so humbled and so thankful."