2 min read
Diagnosis Validation: Optimizing clinical workflows to improve clinical diagnosis accuracy
By Signify Health Team on Oct 18, 2023 10:16:54 AM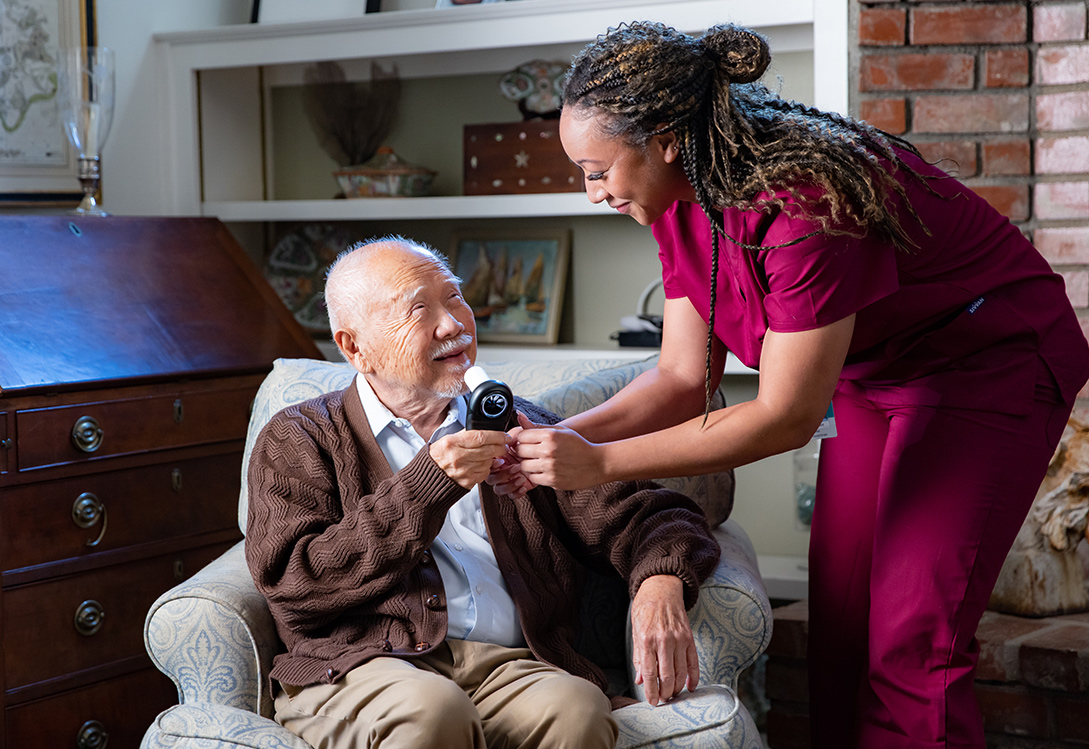 Meghan Sinclair, Vice President of Product Management at Signify Health, leads the Diagnostic and Preventive Services team and recently shared an update on how Diagnosis Loopback was developed.
Developing a new resource for healthcare providers starts with identifying the potential to improve an existing workflow or engineer a new solution due to a current challenge. Cross-functional teams at Signify Health recognized an opportunity to enhance efficiencies in Signify Health's clinical workflow that would benefit health plans and their members. Diagnosis Loopback, an all-new workflow, resulted from identifying an opportunity and developing a tool to optimize member outcomes.
Lab and diagnostics are essential components of the In-home Health Evaluation (IHE) that Signify Health clinicians perform daily. Some results require additional review by specialists or further lab processing, resulting in a lag between when a test was performed and when the results were received. On average, 20% of the results fall in the abnormal range. Signify Health teams in the United States and Ireland collaborated and contributed to developing a new workflow enabling Signify Health clinicians to review lab and diagnostic results immediately after IHEs to promote earlier disease detection when paired with other clinical findings from the IHE. When abnormal results are identified sooner with the appropriate clinical review by a Signify Health clinician, a member, and their health plan can be made aware of an abnormal result and health condition faster, and appropriate intervention can occur more efficiently.

Applying smart logic
With engineering and cross-functional partners working in concert, the Signify Health team designed an automated workflow that applies smart logic to interpret and apply clinical information gleaned during the IHE. The solution temporarily holds evaluations pending lab or diagnostic results from vendors and prompts Signify Health clinicians to review the test results after they are received, including any abnormal outcomes. The team also created an auto-fill space with new test information, which effectively directs Signify clinicians to the relevant section to streamline their review, improving efficiency and effectiveness. For the first implementation of the new workflow tool, the collective group of engineers focused on spirometry overread results, given that 50% of all spirometry evaluations are included in Signify Health vendors' overread process.
Turning opportunities into solutions
By implementing Diagnosis Loopback for spirometry, an additional 5,000 members per month will immediately receive valid spirometry tests. This number is expected to scale over time. Additionally, the demographic that includes the 20% of members with an abnormal lab or test result will benefit from having their Signify Health clinician review the in-home results to determine or rule out the presence of chronic obstructive pulmonary disease (COPD) or another respiratory condition. When COPD is detected sooner and appropriately documented, the member, in partnership with their health plan and primary care provider, can begin appropriate treatment earlier, which helps to enhance quality of life and improve health outcomes.
Diagnosis Loopback is another example of the way Signify Health is collaborating and innovating to identify opportunities and develop meaningful solutions to achieve our purpose of bringing our hearts to every moment of our health plan clients' members' healthcare journey.