4 min read
Signify Health Launches Chronic Kidney Disease Testing, Expands In-Home Diagnostic and Preventive Services Offering
By Signify Health News on 8/1/23 8:01 AM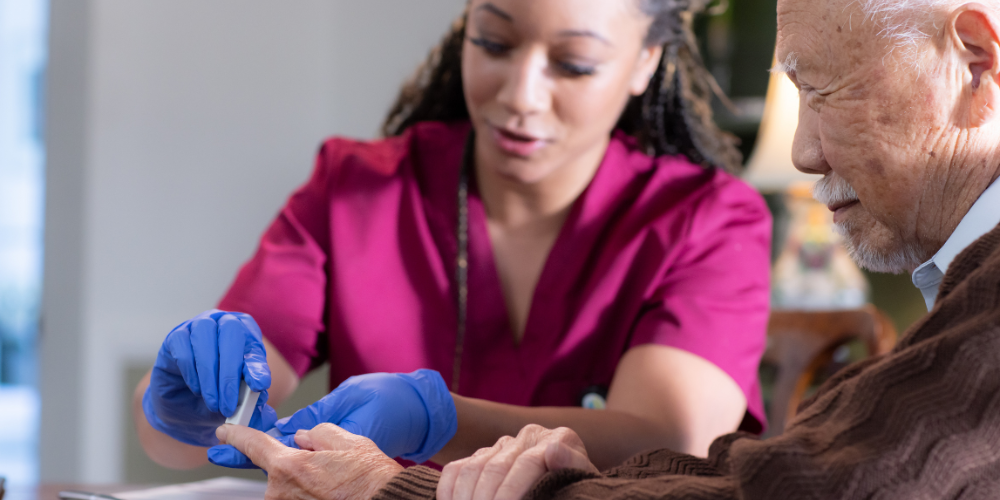 The expanded offering supports the early diagnosis and management of Chronic Kidney Disease (CKD), impacting an estimated 37 million U.S. adults, many undiagnosed
DALLAS & NEW YORK, August 1, 2023 - Signify Health, a CVS Health company (NYSE: CVS), today announced the addition of a comprehensive in-home kidney health evaluation to its Diagnostic and Preventive Services offering. The new screenings expand Signify Health's suite of services designed to support the early detection, diagnosis, and management of some of the leading causes of morbidity and mortality among people covered under Medicare Advantage.
Signify Health providers perform the kidney health evaluation as part of an In-home Health Evaluation (IHE), which is available at no additional cost to Medicare Advantage plan members. Results of the kidney health evaluation, including urinalysis (uACR) and estimated glomerular filtration rate (eGFR), provide clinicians and members with information to help them determine the treatment and management plan that is best for them. This plan may include: additional testing, lifestyle changes, pharmacological treatment, and a referral to a nephrologist for further evaluation and co-management.
"Chronic kidney disease is often underdiagnosed and, if not addressed, can lead to a need for dialysis or kidney transplant, especially for those who also have diabetes," said Heidi Schwarzwald, MD, MPH, Chief Medical Officer, Signify Health Home and Community Services. "By offering these new screenings in the home, we hope to make these important screenings more easily accessible and improve the health trajectory for those we are privileged to serve."
The Centers for Disease Control (CDC) estimates that 37 million U.S. adults have Chronic Kidney Disease (CKD), most of whom are undiagnosed. Also according to the CDC, some 40 percent of those with severely reduced kidney function are not aware they have CKD. Undiagnosed, CKD can lead to kidney failure, with 360 people beginning dialysis treatment for kidney failure every 24 hours, the CDC also estimates. Those who go undiagnosed are at increased risk of End Stage Renal Disease (ESRD), which can lead to an additional $37.3 billion in Medicare costs. Diabetes is the leading cause of CKD, with approximately one in three adults with diabetes having CKD.
In Medicare members with CKD, the hospitalization rate is 2.4 times higher than those without CKD and in 2019 overall Medicare costs for people with CKD were $87.2 billion. A comprehensive kidney evaluation can reduce the risk of kidney-related cardiovascular events and delay the progression to kidney failure, improving overall health outcomes.
Signify Health's new offering aligns with the Kidney Health Evaluation for Patients with Diabetes (KED) a new quality measure added by the Centers for Medicare and Medicaid Services for the 2023 Performance Period/2025 Payment year, and for future years under the Quality Payment Program (QPP) 2023 Final Rule. Closing the KED care gap and increasing in-home eGFR screenings can help health plans improve quality performance, yield financial incentives and improve member satisfaction.
Signify Health will have more information about CKD and other Diagnostic and Preventive Services available at the Company's exhibit booth at the RISE West conference taking place August 28-30 in Dallas, TX.
About Signify Health
Signify Health, a CVS Health Company (NYSE: CVS), is a leading healthcare platform that leverages advanced analytics, technology, and nationwide healthcare provider networks to create and power value-based payment programs. Our mission is to build trusted relationships to make people healthier. Our solutions support value-based payment programs by aligning financial incentives around outcomes, providing tools to health plans and healthcare organizations designed to assess and manage risk and identify actionable opportunities for improved patient outcomes, coordination and cost-savings. Through our platform, we coordinate what we believe is a holistic suite of clinical, social, and behavioral services to address an individual's healthcare needs and prevent adverse events that drive excess cost, all while shifting services towards the home.
Media Contact:
Lynn Shepherd
lshepherd@signifyhealth.com