5 min read
Signify Health opens its new state-of-the-art technology center in Galway's Bonham Quay
By Signify Health News on 6/20/23 12:05 PM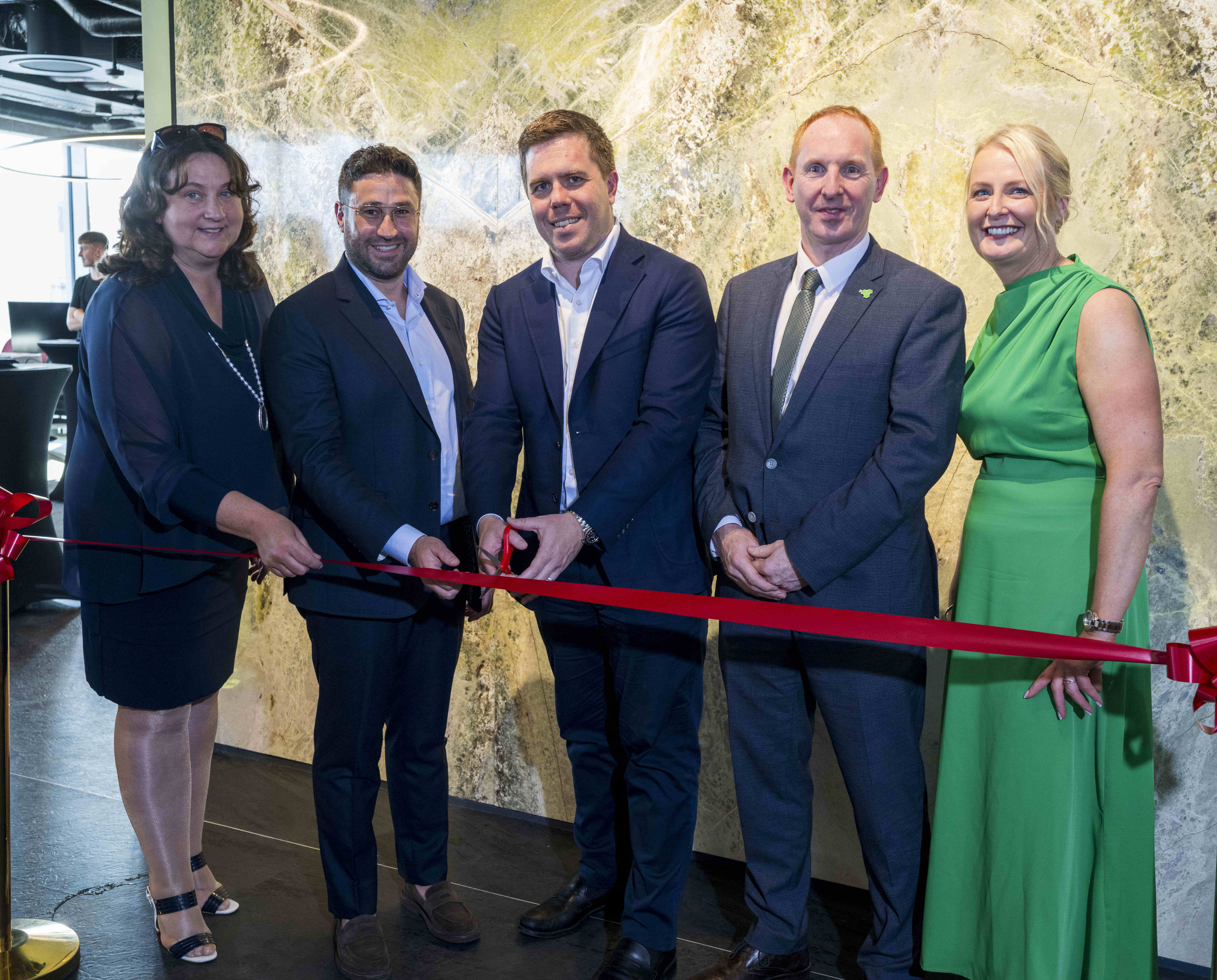 From left to right: Irish Minister for Disability Anne Rabbitte, Signify Health CTO Josh Builder, Signify Health CEO Kyle Armbrester, CEO of IDA Ireland Michael Lohan, and Signify Health VP and Ireland Site Lead Elaine Murphy.
● Campus designed from scratch as a hybrid workplace
● More than 60 highly skilled employees have already been hired
DALLAS, TEXAS and GALWAY, IRELAND – Signify Health – June 20th 2023
Signify Health's new state-of-the-art technology centre in the heart of Galway city was officially opened today (June 20) by the company's CEO Kyle Armbrester.
Prior to the official opening, Armbrester was honoured at the Galway Chamber Summer Business Lunch which was also attended by Signify Health's CTO Josh Builder.
Special guests at the opening included Minister for Disability in the Department of Equality Anne Rabbitte and IDA CEO Michael Lohan.
This is Signify Health's first operation outside of the U.S., where the company has dual headquarters in Dallas and New York City. The impressive almost 20,000sq ft offices span across two floors in the Bonham Quay complex overlooking Galway Docks.
The Signify Health technology centre is one of the first office campuses in Ireland to be purposefully designed from scratch to work as a hybrid working environment.
Signify Health, a CVS Health company (NYSE: CVS), is a leading U.S healthcare technology platform with more than 2,000 employees in the U.S. The company chose Galway to build a dynamic and diverse tech team who will create cutting-edge solutions to help transform the U.S. healthcare system.
The Galway facility uses an inclusive design that ensures that sensory stimulation is varied throughout the working day. The workspace encourages a collaborative and sustainable work environment. As part of Signify Health's commitment to supporting the community, the new offices have been fitted out using local businesses, craftspeople and artists to create a modern and dynamic workplace rooted in the West of Ireland.
The Bonham Quay building is certified with: LEED Gold, Gold WELL Building Standard, BER A3 Rating, One Planet Living, and Wired Scored Platinum. Signify Health itself is certified with One Planet Living, which provides a framework for organisations who are committed to creating a truly sustainable workplace.
Signify Health has already announced its goal of creating more than 125 new technology innovation roles at Bonham Quay with more than 60 talented team members already hired in a range of software engineering, product management and other technology development roles.
Attending today's opening was the executive leadership team of Signify Health as well as representatives from CVS Health, which acquired Signify Health earlier this year, alongside the Irish team which includes Elaine Murphy, Site Lead and Michelle Concannon, Global SVP of Engineering.
Kyle Armbrester, CEO, Signify Health said:
"The U.S. is facing a significant increase in its aging population and needs new models of care that are convenient, affordable, and lead to improved health. Signify Health is using its data-driven solutions and technology platform to help connect people to care where, how and when they need it, and help create a more humanised system of care delivery in the U.S."
"Our Galway tech hub is essential to our mission and we are committed to retaining, attracting and supporting the best talent in the industry as we continue to grow our Irish team. We chose Galway as our first operations outside the U.S. because of its world-class technology and engineering talent and we have not been disappointed by the quality of employees already hired here in Ireland. I am delighted to be here in Galway again today for the official opening of our Bonham Quay office, and am excited about what we are going to achieve here."
Minister for Enterprise Trade & Employment, Simon Coveney TD said:
"I'm really happy to welcome Signify Health to Ireland and I'm delighted they've chosen Galway for their first office outside the US. This new state of the art, sustainable office space, will create 125 new highly skilled jobs, providing support to healthcare providers around the world. Galway and indeed the West, is now a hub of thriving tech and MedTech companies and this is no surprise as we have such a talented workforce at our disposal. Having such a renowned company like Signify Health choose our country for this exciting new investment is very welcome and demonstrates their confidence in us. I wish the team every success here in Galway and thank them for putting their confidence in Ireland."
Minister for Disability Anne Rabbitte TD said:
"As a Minister from Galway, it gives me great pleasure to see Signify Health creating jobs of such calibre in the city. Not only does it show the importance of Galway as a centre of excellence for MedTech, but also that there is a workforce thriving with talent in Galway and the surrounding areas. The impact of this investment extends far beyond Ireland, with its reach extending right around the world. The choice of Bonham Quay as its home also shows Signify Health wants to invest in sustainable buildings, which breathe new life into the city. I wish the team in Signify Health all the best for the future and look forward to their continued growth in Ireland, as well as all the people they support around the world."
Michael Lohan, CEO of IDA Ireland said:
"Last year, Signify Health announced plans to create 125 jobs in Galway over two years, so to see their team here grow to in excess of 60 members so far, is very encouraging and showcases Ireland's hardworking and talented workforce. IDA Ireland remains committed to winning jobs and investments in regional locations. I wish Signify Health every success as it continues to build its footprint here in Ireland."
The company is actively recruiting. For current employment opportunities at Signify Health's Galway technology centre based at Bonham Quay, go to https://boards.greenhouse.io/signifyhealthireland
Notes to Editors:
For more information or to arrange interviews, contact:
Martha Kearns at StoryLab on + 353 872720212
U.S. contact: Lynn Shepherd, +1 6106137263
About Signify Health
Signify Health, a CVS Health company, is a leading health care platform that leverages advanced analytics, technology, and nationwide healthcare provider networks to create and power value-based payment programs. Our mission is to build trusted relationships to make people healthier. Our solutions support value-based payment programs by aligning financial incentives around outcomes, providing tools to health plans and healthcare organizations designed to assess and manage risk and identify actionable opportunities for improved patient outcomes, coordination, and cost-savings. Through our platform, we coordinate what we believe is a holistic suite of clinical, social, and behavioral services to address an individual's healthcare needs and prevent adverse events that drive excess cost, all while shifting services towards the home.
For more information on One Planet Living, visit https://www.bioregional.com/one-planet-living